Iannis Pledel creates paintings and photography. His work depicts tales of everyday life, desires, drawn from his own experience of reality. He questions the passing of time and the eternal restarting.
He is inspired by mythical scenes from the history of art, mythology, religious history, and also literature, cinema and pop culture to create striking personal works, imbued with his own pictorial aesthetic.
His stylistic technique is based on sets of overlays : the physical and psychic movements are simultaneously painted or photographed in a constant dynamism offering several levels of reading. 
The canvases, constructed on a thread of thought, initially catch the attention through an aesthetic perception. Then, on closer inspection, there emerges a climate of strangeness as seductive as it is threatening. Behind the apparent beauty, whose luminous colours echo, one can detect a certain form of oppression.
Iannis Pledel (b. France) lives and works in Paris. Painting has been an integral part of Pledel's life since his childhood. Later he broadened his artistic horizons by studying art photography at the Gobelins school and by learning various printing techniques, such as gelatin silver printing and platinum palladium printing. He also studied epistemology at Sorbonne University in Paris. After receiving his PhD at Sciences-Po Aix he dedicated himself to painting and other art forms. His multidisciplinary approach is a testimony to his multifaceted experience. 
Currently, Iannis Pledel is in a period where he is working on transparency. He explores the relationship between interior / exterior from works conceived as windows on worlds and spaces that we glimpse and which escape us.
In Floating Souls, a series of oil on seven canvases, he describes the tragic meaning of being, in front of which, everyone clings to his own lifebuoys. He translates into painting these everyday screams that cross the ages. Each day of each week repeats itself in an eternal restarting.
Fragments of Desires combine painting and photography and reveal different planes that enrich each other in a fusion of colors and light. Like our desires and feelings, they are distinguished by their ever-changing dynamism and their enigmatic character. 
In Odyssey he adapted Homer's Odyssey by bringing the world of today and mythology into dialogue.
In Deadly Sins he associated fairy tales and photography.
He also distinguishes himself with creations for collaborations, especially with Colette Paris or Estée Lauder, makes album covers such as Génération Goldman, Electro Deluxe, Quintette Syntonia or more recently Acquin.
CONTACT
iannis.pledel@gmail.com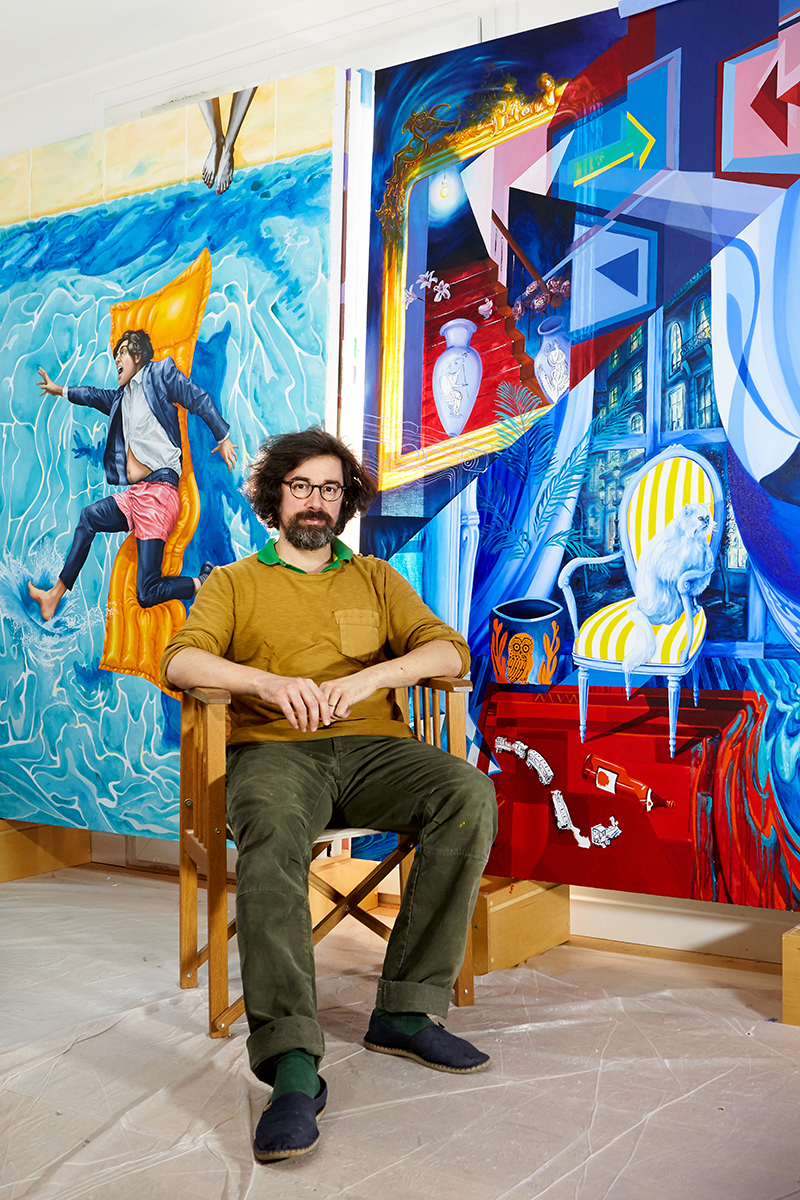 STUDIO
Iannis Pledel is a resident of 6b
SOLO EXHIBITIONS
2022, Art Center Cresco, Saint-Mandé, France (Sept – December)
2022, Dédales, Town Hall, Paris 17e, France (21 march – 30 april)
2019, Fragments of Desires & Odyssey, La Cale 2 Créateurs Gallery, Nantes, France
2019, Fragments of Desires, Cité des Arts of Chambéry, France
2014, The Parisian Girls, Colette, Paris 1e, France
2014, The Parisian Girls, Le Saturne, Paris 2e, France
2014, Photographs, B Gallery with Art Center Betton Town Hall, Rennes, France
2014, Venetian Intrigue, 13 Regards Gallery, Paris 13e, France
2013, Vermilion, B Gallery, Pont-Aven, France
2012, Looks, Zigomar Gallery, Lorient, France
2012, Envy, Saint-Roch Chapel, Argentan, France
HONORS
2020, Antoine de Galbert Foundation
2018, Certificate of artistic merit, Luxembourg Art Prize, Pinacothèque museum
PUBLICATIONS
Books in limited editions about the Deadly Sins :
Anger / La Colère – Blue Anger / Colère bleue (Work in progress)
Pride / L'Orgueil – The Little Red Model / Le Petit Modèle Rouge (90 p., 50 photographs), 2016
Envy / L'Envie – Vermilion / Sang Vermillon (170 p., 75 photographs), 2013
CATALOGS & ARTICLES
Catalog of the Cultural Season of St Mandé – Cresco Cultural Center, 2021
Lumas Art Magazine, vol. II, 2020
Le Parisien, article pour la Fresque créée à la Maison Marceau, 2020
Catalogue d'exposition, Cité Internationale des Arts, Xi'an, Chine, 2019
Ouest-France, article pour l'exposition Fragments de désirs et L'Odyssée à la Galerie Cale 2 Créateurs, Nantes, octobre 2019
Catalogue d'exposition, Cité des Arts de Chambéry, 2019
Catalogue d'exposition, Salon d'Automne, 2018
Estée Lauder Pink Ribbon Photo Award, Éditions Xavier Barral, 2017
Normal, Photographie d'Art n° 6, 2015
Le Colette, Catalogue du concept store Colette de Paris n° 11, 2015
Normal, Photographie d'Art n° 5, 2015
Ouest France, Articles pour l'exposition Rétrospective de 5 photographes, Galerie B de Pont-Aven avec la Mairie de Betton, Rennes, octobre 2014
Ouest France et le Journal de l'Orne, Articles pour l'exposition L'Envie, Argentan, octobre 2012
Paris-ci la Culture Magazine, entretien, octobre 2012
TEACHING EXPERIENCES
2020, Painting and drawing lessons, Maison Marceau, Paris 8e
2019, Visiting artist, Cité des Arts of Chambéry